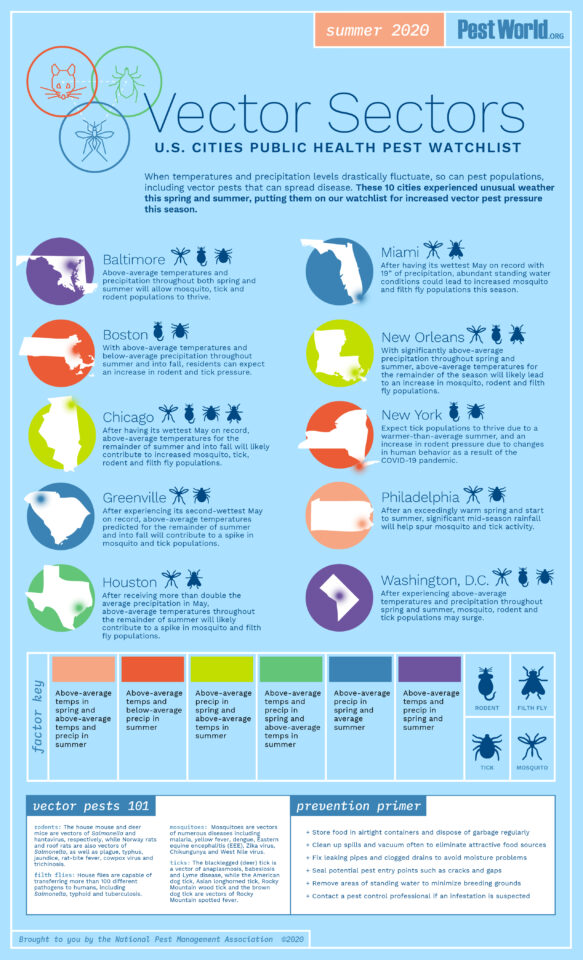 The National Pest Management Association (NPMA) has named Greenville in a list of top 10 U.S. cities with the greatest risk for increased pest pressure from vector pests, including ticks and mosquitoes.
Already a hospitable environment for ticks and mosquitoes, Greenville experienced its second-wettest May on record and has continued to have higher than normal temperatures throughout the summer. Because of this, the area should expect to see an increase in both mosquito and tick pressure as the weather continues to remain hot into the fall.
"Each season, we keep a close eye on the weather and implications it has on pest management," shares Kevin Hathorne, technical director of Terminix Service, Inc. "With heightened conditions this year and the desire to spend more time outdoors socially distancing, it's important for the public to be aware of vector pests and how to guard against them."
Vector pest prevention measures include:
Apply bug repellent containing at least 20 percent DEET
Wear long sleeves and pants when outdoors
Wear light-colored clothing to make pests more visible
Remove areas of standing water to minimize breeding
Contract a licensed pest control professional if an infestation is suspected
Mosquitoes and ticks are vector pests, meaning that they can carry diseases and pose a public health threat. The good news is that there is no evidence that mosquitoes can transmit COVID-19. While Terminix cannot guarantee the elimination of pests carrying diseases such as Lyme Disease and West Nile Virus, these measures can reduce the chances of bites occurring. For more information on mosquito and tick management services, visit this page for a free quote and to find your local branch or call 1-800-TERMINIX.